Did you know 89% of patients turn to the internet to search for healthcare providers?
Nearly all of them begin by looking on Google.
And guess what? The first three (and sometimes even 4 or 5!) spots on Google's search results are typically reserved for pay-per-click (PPC) ads.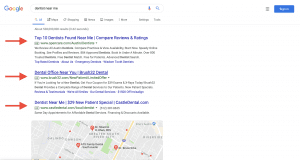 This means that unless you are advertising, your competitors will be among the first results when new patients search for, "dentist near me" or "best dentist in my area."
That's why today's successful practices are leveraging the power of digital marketing more and more.
If you're curious on how PPC advertising can help your practice, you're in the right place.
What is PPC Advertising?
Before we talk more about why online ads for healthcare practices are amazing, let's begin by discussing what it is and how it works.
PPC stands for "Pay Per Click" and is a form of online advertising where you only pay when a user clicks your ad. For our purpose, we will only refer to PPC advertising on search networks like Google & Bing.
What's great is these ads only appear when the user is searching for relevant content, or your targeted keywords. Therefore, you can take your money further by getting more qualified leads.
Now that you have a better understanding of what PPC ads are, let's take a look at how you can leverage them for your practice.
Why You Should Use PPC Advertising for Dentists
There are several advantages of PPC ads for healthcare practices like urgent care, dentists, med spa, chiropractors, and more.
Here are 5 of the most important ones. When used correctly, they'll help you get more patients for your practice.
1. Grow Your Traffic & Get Noticed
If your practice doesn't already organically rank for different search terms relating to your business, PPC ads can put you in the spotlight.
By appearing on the front page while potential patients are searching for dentists in your area, you'll get more online traffic, as well as more calls from qualified leads.
Plus, even if potential patients don't click on your ad, you still get really good exposure appearing on the front page as a credible option. Next time they search, they may just remember you. Or perhaps they'll recognize your business next time they drive to work after seeing the ad.
Lastly, this is a good way to grow your local online presence. By getting regular traffic to your site, Google & Bing will better rank your website so you appear in more search results over time.
2. Get Featured On Local Maps
Appearing on the front page of search results is a great way to get more patients but being featured in the 'Map Pack' can be just as beneficial if not more so.
Even without searching within a Maps application, the 'Map Pack' (pictured above) often appears on the front page of Google showing the location of dentists near the user. As you can see, you can claim the very first position with a strategic PPC ad.
The benefits don't stop there. 77% of people use navigation apps. If someone using Google Maps searches for a dentist in your area within the app, your practice can appear there as well.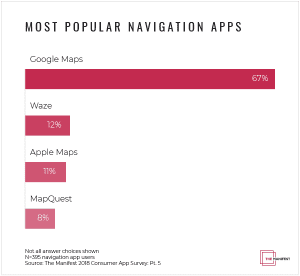 Since Google Maps is by far the most popular navigation application, it's a great way to get your practice front and center as people are looking for your services in real-time.
And remember, even if your ad isn't clicked, you gained great exposure and increased the likelihood someone will visit your website or practice in the future.
Now they may even know where you're located!
3. Precise Targeting for Qualified Patients
Where traditional marketing took more of a 'spray and pray' approach, PPC marketing allows you to get extremely precise with who you target. This ensures your ad spend goes further while you get more qualified patients.
For example, let's say you run a dental business in Saratoga Springs & offer a premier service like dental implants. You could run one ad matching your exact demographic within a 5 mile radius of your business, as well as another one specifically targeting people in your area who are searching for practices offering dental implants.
Another option could be targeting areas of higher or lower income and then showing custom ads based on what's most relevant to the user searching for your services.
No more spray and pray. Precise targeting through PPC ads means your ads will only appear to highly qualified potential patients. And of course, you'll only pay if they actually click.
4. Call Only Ads
Believe it or not, it's possible to only pay for an ad if someone calls your practice.
Call Only Ads encourage users to call your business instead of click a link. With the right office staff, this can be a great way to get more patients and provide excellent service.
You can even have these ads only appear on mobile devices so they're even more relevant.
Since Call Only Ads take regular PPC one step further, they can be more expensive.
But with the right things in place, or with the right offer, they can absolutely be worth the investment.
5. Exclude Your Competition
In addition to being able to target who you market your ads to, it's also possible to choose when to exclude them.
Why would you want to do that?
Let's return to our dental practice example. If someone knows they want to use a specific dentist, you don't want your practice to appear in the search results because it's unlikely they'll choose you over the one they're looking for.
Therefore, you can exclude smaller, local competitors and go after potential patients who are still unsure about what practice they want to use.
That way, your ads appear to an even more qualified audience.
Where do you start using PPC Ads for dentists?
PPC ads are very effective because you can curate highly custom ads for a specific demographic located in a targeted area. Of course, not all ads are created equal.
As you're likely already aware, online ads and SEO can get pretty complicated. There are experts, like PatientSpring, who specialize in these services and are on the cutting edge of the ever-changing algorithms.
Since the potential financial return on leads is high in your field, it's highly recommended you invest in hiring a team to handle this for you so you can focus on your practice.
The bottom line is that PPC ads will help you grow your business when done right.
Furthermore, they can provide a consistent and predictable flow of patients so your practice can run even smoother.