Are you using digital marketing to get more patients?
The numbers don't lie. Online marketing for dentists typically improves conversion rates by about 59%.
That's because digital marketing strategies can be taken much further than traditional marketing. By being able to engage users online, on social media, and in their inbox, you're able to provide a more enriching & informative experience to your potential patients.
In fact, digital marketing for dentists can increase patient engagement by 87% while improving the patient experience by 73%.
Patients like to engage and feel like they have more control over their wellness. Which is also why digital marketing strategies can increase brand perception, patient loyalty, and patient retention.
5 Digital Marketing Strategies for Dentists
Traditional marketing strategies are a thing of the past. Today with a strong digital marketing strategy, dentists can get more qualified patients and retain them for longer.
If you're looking for tested and proven techniques, you've come to the right place. We've listed our top digital marketing techniques to grow your practice and get more patients.
1. Online advertising gets you more traffic
Did you know nearly 90% of patients search Google to find dental practitioners?
It's true. And the first 3-5 spots on the search results are typically reserved for pay-per-click (PPC) ads. Since these are the links that are most often clicked, PPC advertising for dentists is a must.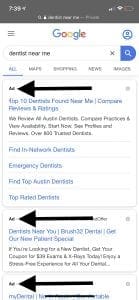 Here's the best part about PPC ads:  you only pay when your ads are clicked. That means, every time your practice comes up listed on the front page of search results and isn't clicked, you get free exposure to all those people.
Next time they search, they may remember your name – or perhaps they'll recognize your practice next time they drive to work!
Social media ads are also a great option for many practices.
The best part about social media ads is how targeted they can be so you can be sure the right people are seeing your ads. Plus, they're great for marketing specific offers you may be running.
You can do PPC ads, sponsored posts, run promotions, share videos, images, links, and much more. The platform is also equipped with its own analytics and dashboard that is designed to make online marketing on the platform a little less complicated than Google PPC advertising.
2. Nurture campaigns close more sales
Often times, you may get leads that are interested in your practice or an offer you have but aren't quite ready to book. Maybe they want to do more research – or perhaps they were busy and didn't have time to book at that moment.
That's where a nurture campaign can come in and help grow your practice. It has the power to convert a cold lead into a loyal patient.
The most common strategy is the email nurture campaign. By sending automated, customized emails, potential patients begin to trust your practice more as you curate a more personal relationship with them.
Since value is also provided, the law of reciprocity is induced. That means users will feel more drawn to engage in your serves.
3. Social media increases brand awareness
Facebook has over 2 billions users. Over 90% of Americans are on social media in some way or another. Therefore, it's a critical digital marketing strategy for dentists.
In addition to Facebook, Instagram has around 500 million people using the platform every day. This platform is a great tool to personalize your practice. From sharing behind the scenes videos on your Instagram stories to providing helpful tutorials (how to properly brush your teeth), to creating offers and sharing your location – it's a remarkable digital tool that can help you better connect to potential patients.
Let people get to know you and what you're able to provide. People are much more likely to book an appointment with a practice they feel like they can trust. Social media is a great way to build that trust.
4. Onsite & Offsite SEO gets you ranking
Remember how 90% of users search on Google for dental practices? This is your chance to land on the front page without spending any money.
Search Engine Optimization for dentists is one of the best tricks in the book. With the right SEO strategy, you can improve your online presence and get more patients.
SEO can either be onsite or offsite. Onsite SEO is basically optimizing your website's content with keywords that are relevant to your audience. For example, if you have a dental practice, your website may have content such as how to properly brush your teeth, how often you should floss, and which toothbrush is actually the best.
Then, when someone is on Google searching for these terms, it's more likely you'll appear on the front page. You can also appear on the front page for terms like, 'dentist near me'. With the right SEO strategy, you can appear in local search results & maps when people search for a dentist in your area.
5. Modern website converts more leads
We all know having a good looking website is important to grow your practice but if you want to be on the leading edge of converting leads into qualified patients, you need more than a pretty website.
What should a good healthcare website look like?
There are several ingredients needed to have a good website for your practice. First, it should be fast. Slow websites aren't only frustrating to potential patients, they're also a lot less likely to rank in Google search results.
Since Google tries to send people to the best places, it chooses fast, relevant website more than slow ones. It should also be optimized for SEO as we discussed earlier.
Further, it needs to feel comfortable and friendly, while still expressing a sense of professionalism. A soothing website starts to make a potential patient feel calm before stepping foot in your practice – and that's a great start to patient retention.
But if your website isn't' professional or has errors, it gives the impression your practice may not be safe. First impressions are important. You also want to be sure it has online chat & scheduling functionalities. Users should be able to book appointments and have questions answered right on your website.
Digital Marketing Will Grow Your Dental Practice
Online marketing for dentists is critical in the modern world. But don't let that intimidate you! It's actually more efficient and less expensive than traditional marketing.
The best route is to hire a professional dental marketing agency. That way you can focus on what you do best & let the marketing guys & gals do what they do best.
Either way, don't get left behind. Use the dynamic fast-paced environment of the digital world to work for your practice, not against it.